.
.
| | |
| --- | --- |
| | ASK JULIE |
Please fill out this Form if you would like to be contacted me, or if you have a question related to my Seminars or my Time Management and Organization expertise.

Your full name:
Your email address:


Your Current Website Address:

Evening phone number:
Daytime phone number:
FAX number:


Do you have a question or wish to send me a note?
Home | Time Management | Organization | Seminars | Free Tips | Ask Julie
CONTACT: <julie_schroder@excite.com>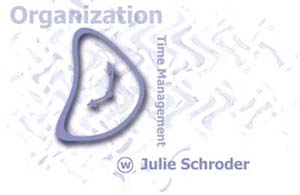 Website and Graphic Design by Candie's Peppermint Graphics
© 2000 Candie A. Witherspoon
ALL RIGHTS RESERVED.