BACKGROUNDS
The backgrounds found in these pages are completely original and free for use in designing Web Pages. They are not all seemless, however. So, some may be better suited as texture fills.
Candie's Peppermint Graphics Logo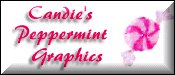 If you use the graphics on this site, Please add a link on your page to mine. You may copy the Logo above to use as a link. Thanks and please visit again soon!
Copyright © December 11,1997
Candie A. Witherspoon