Craz Package
The image package on this page is free for copying. Simply right click on the images, select "Save Image As", and save them in the directory of your choice.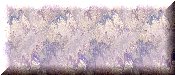 Craz Buttons


Craz Lines
Craz border background--don't forget to copy it too!
If you use the graphics on this site, Please add a link on your page to mine. Thanks and please visit again soon!
Copyright © November 30,1997
Candie A. Witherspoon


This Page is created by: