Portfolio
Candie's Peppermint Graphics All Graphic Design Work, Animations, Interfaces, Buttons, Tutorials, and HTML on Candie's Peppermint Graphics are my original work. No other Artists work is found on this site. All graphics on this site are free for the public to use, but may not be altered in any way and must give a link and recognition to this site for any graphics used on their sites. All Graphic work done for my clients are copyrighted and may not be used, copied, or altered for any reason without their express permission.



Deb's Uniforms
I designed and created everything on this site.(Graphics Layout and Coding)



Candie's Tree--Personal Genealogy Website
I created and designed everything on this site. (Graphics Layout and Coding)



Manage Your Mess
I created the entire site, Layout, Graphics, and Design.



---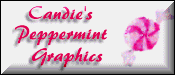 Copyright ©1998
Candie Witherspoon